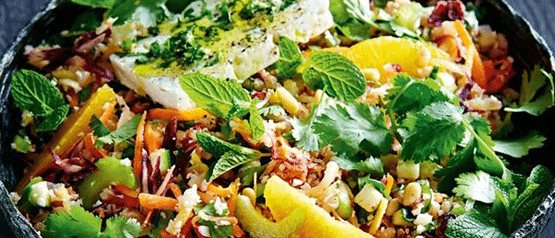 SERVING SIZE: 4
COOKING TIME: 45 MINS
DIFFICULTY: EASY
Ingredients
150g (2/3 cup) pearl barley
2 oranges, peeled
1 lemon, rind finely grated, juiced
1 tablespoon extra virgin olive oil
2 teaspoons maple syrup
250g cauliflower florets
1 small zucchini, finely chopped
2 celery sticks, thinly sliced
2 green shallots, thinly sliced
280g mixed carrots, peeled, coarsely grated
50g (1/3 cup) dried cranberries
1/2 cup fresh mint (firmly packed), chopped
1/2 cup fresh coriander leaves (firmly packed), chopped
2 tablespoons toasted pine nuts
200g low-fat feta, quartered
Extra virgin olive oil, extra, to drizzle
Fresh mint, extra, to serve
Coriander leaves, extra, to serve
Method
Place barley in a saucepan. Cover with cold water. Bring to the boil over high heat. Reduce heat to medium. Simmer, stirring occasionally, for 30-35 minutes or until tender. Drain. Refresh under cold running water. Pat dry with paper towel. Place in a bowl.
Holding each orange over a bowl to catch any juice, cut along either side of the white membranes to remove orange segments. Reserve juice. Combine orange juice, lemon juice, oil and maple syrup in a bowl and season
Process cauliflower until finely chopped. Add cauliflower and zucchini to juice mixture. Set aside for 5 minutes to develop the flavours.
Add orange segments, lemon rind, celery, shallot, carrot, cranberries, zucchini mixture and 3/4 of the herbs to the barley. Season. Toss to combine. Divide among bowls. Sprinkle with pine nuts. Top with feta. Sprinkle with remaining herbs. Drizzle with extra oil and sprinkle with extra herbs.
(recipe from: https://www.taste.com.au/recipes/barley-raw-veg-power-salad/af567e58-fc61-4758-a18c-9d58dc772884?r=recipes/)